Offstage Roles in a Drama Society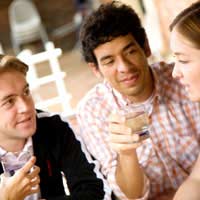 In any amateur dramatics society there are a number of roles that need to be filled in order to ensure that the productions run smoothly. Regrettably, some troupes open their doors by forcing the members to take on too many behind-the-scenes commitments rather than parcelling them out. This can have disastrous consequences, as overloading a single individual is almost always a recipe for problems down the road.
To ensure that your amateur dramatics group functions at the most efficient levels possible, divide the following leadership roles between your volunteers and committee members. Just be certain not to expect only a couple of people to do the work of the whole troupe.
Role #1: The Chair or Co-Chairs
At least one person must be in charge of the amateur dramatics society, and that individual's title can be president, chairman/chairwoman, CEO or any other moniker that works for the team.
Basically, this person (or people) will be the "top" of the hierarchy and have veto power if necessary on a variety of items, including how money is spent and which productions to stage. Of course, any vetoes should be used sparingly; as the old saying goes, "Absolute power corrupts absolutely." And that can happen, even in non-profit organisations.
Consequently, it's essential that the person or persons heading your troupe is/are able to handle leadership, decision-making and delegation. Choose your chair(s) wisely, or your amateur dramatics society might not survive.
Role #2: The Role Of The Treasurer
Financial considerations should be handled by your treasurer, who should immediately establish a series of leadership checks and balances as far as the finances of the troupe are concerned.
Typically, the treasurer handles opening savings and accounts and monitors the flow of funds in and out of those accounts. He or she may also help determine future monetary needs in terms of the society's growth and aspirations.
Ideally, the treasurer works or has worked in the financial industry, but that's not needed. A good money manager without a banking or investing background can absolutely fill this role.
Role #3: What The Artistic Director Does
Your amateur dramatics society's artistic director will be the "point person" as far as all things art-related are concerned. He or she may even develop your amateur dramatics society's season without input from others, at least while your group is just getting off the ground.
Be forewarned that the artistic director and the treasurer will probably have very different ideas for the troupe, and may clash in their roles once in a while in a battle of "The Arts" versus "The Money." Therefore, it's good if your artistic director has the foresight to ward off any issues… or at least has a decent sense of humour and not take him or herself too seriously!
Role #4: The Role Of The Box Office Manager
If you're selling tickets to your events, you'll need someone to manage seating arrangements, tickets, season ticket holders, society members, complementary tickets and similar matters.
Though the box office manager's role has sometimes been minimalised, it's a critical indicator of an amateur dramatics society's success. By giving leadership to someone who is sensible, straightforward, and thorough this title, your troupe will be ensured that no one arrives on opening night only to find out their seats have been sold!
He or she may also be in charge of attracting and training volunteers as ushers or back stage personnel.
Role #5: The Publicity Director's Role
The publicity director's role should cover all issues related to marketing, public relations, sponsorships and advertising; in fact, he or she may additionally head up capital campaigns or other fundraisers.
Thus, it's necessary that this person be a dynamic visionary who gets the job done. An introvert usually does not do well as an amateur dramatics society's publicity director, as he or she will need to socially network as part of his or her responsibility.
An Important Aside:Please remember that just as every person is unique, so is every amateur dramatics society. Therefore, yours may need to arrange roles differently than were listed above. Still, the aforementioned five positions are those regularly found among troupes.
You might also like...
The Stage Manager of our current production 'The Producers" has usurped the control and authority of the Director. The difficulty is they are partners, but they have tantrums where the SM insists that set design and props are to be built, stored and altered to suit his own requirements, altering the overall concept for the production as designed by the Director. The cast have witnessed this display of antagonism, and defiance, some being teenagers, new to amateur theatre and hopefully will not leave the production with a distatste of amateur theatre. Throughout the rehearsal stage, who is actually in control?
Surely if you are an am dram group then the role of Artistic Director would not involve any payment.Members would nust democratically vote / appoint someone to te role from the members?
BN
- 16-Apr-16 @ 12:04 AM
Hi I am on the committee of an am dram group set up last year and am looking for some advice on the role of Artistic Director. What is the average payment made to the person taking this role and what typically would the agreement cover? thanks for any help you can provide
FCM
- 26-Feb-16 @ 11:52 AM