Rights to Use Clips of Recorded Music in Performance?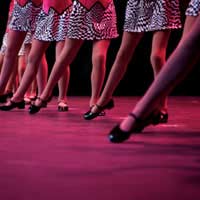 Q.
What licence is required to use clips of recorded music during an amateur production? What licence is required when playing music as part of a musical performance?
(T.P, 12 July 2009)

A.
There are two issues with regard to licensing music for performance – the venue needs to be licensed to allow music to be performed and the production needs to be licensed to ensure that the music that is broadcast or performed is paid for.
Just to confuse the situation further, in the UK the rights to broadcast music in a theatre, or any other venue serving as a theatre for your production, are split into two types of permission, administered by two different companies.
PRS and PPL
One company, PRS for Music, is responsible for licensing with regard to the rights of the composer and lyricist of the works that are going to be performed. The second company, Phonographic Performance Ltd (PPL) collects money on behalf of the copyright holders for a specific recording that you might use in a performance. In both cases these companies will collect money from you and pass it on to the people who wrote and performed the music you are broadcasting.
So if you are putting on a performance where you will be singing and performing songs or music yourself, you will probably only need a licence from PRS for Music. If you are playing CD's over a PA system though, you are likely to need licences from PPL to cover the people who played on the CD and one from PRS to cover the people who wrote the words and music. You can find out more on the appropriate websites.
Venue Licensing
The licensing of the venue for performances is a completely different matter and is nothing to do with collecting money. This sort of licensing is more about making sure that the venue is appropriate for performances and is dealt with by your local authority.
You should check with whoever runs the venue to make sure that they have a licence that covers them for playing recorded and live music. All theatres and music venues will have this already as will many community venues such as village halls, church halls, social clubs and the like.
Check for Liability Protection
Of course many community venues should have a licence but may not actually have one. In this case, as long as you check to see whether or not there is one, and you get a 'yes', then you should be alright. If they turn out not to have one and there's trouble, the person running the venue should be the person chased rather than you.
You might also like...