About Our Site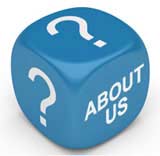 AmateurDramatic was formed to offer a unique reference point on great advice for anyone interested in drama.
Do you love everything about the theatre? Would you enjoy acting, directing, writing or producing a play, opera, musical or drama even if it meant you never made any money? Are you thrilled by the "smell of the greasepaint" and "roar of the crowd"? Then this is the place for you!
We share our secrets, ideas, experiences and best practices, delving into topics such as establishing a board of directors, choosing the right venues for performances, and marketing your plays the right way.
At Amateur Dramatic, you'll find everything you need to satisfy your inner Shakespeare (after all, as the Bard asserted, "All the world's a stage") as well as help you share your love of dramatics with others.
From finding the strongest amateur dramatics troupe volunteers to wooing audience members, Amateur Dramatic explores dozens of aspects of forming and running an amateur dramatics society. From the moment you start reading the site's succinct articles, you'll gain insights and support, not to mention learn how to avoid some of the common mistakes that start-up amateur dramatics societies make.
If you're ready to introduce your community to the beauty of comedies, dramas, musicals and other performing arts experiences, it's time to explore Amateur Dramatic now and begin your theatrical adventure!

Related Articles in the 'Site Information' Category...