Improvisation Exercises and Techniques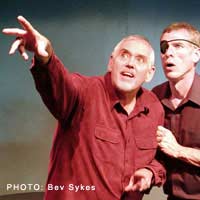 If you're an actor trying to become better at your craft then bravo to you!
Even the greatest thespians in the world need to spend time honing their proverbial "chops" (a musical term for ability). So never feel overwhelmed by what you think you still "need" to accomplish—dramatics is a journey, certainly not a destination.
Improvising
With that said, it's time to ask yourself a crucial question: "How are my improvisational skills?" More specifically, this query relates to how well you honestly feel you are able to be vulnerable and open during auditions, rehearsals and performances. After all, the key to any solid performer is an innate flexibility; consequently, improvisation skills are highly prized by directors.
If you've never had the opportunity to stretch yourself in this manner, it's high time to begin. Even if you're not certain you want to be on stage (as opposed to working backstage), being able to engage in improvisation will only benefit you.
Below are some short exercises that you can try both alone and with a group. Each is aimed at helping you become more comfortable, making physical and emotional shifts, as well as upping your ease at performing in front of a crowd.
As a side note, most people with exceptional theatrical improvisational abilities find that they begin naturally using improvisation skills at work, too! This comes in particularly handy when chairing a meeting or giving an impromptu speech.
Exercise 1: Become the Expert
Pick up today's newspaper, open up to any page, close your eyes, and put your finger down. What is the article or advertisement upon which you fell? No matter if it relates to your community, a joke, a starlet or the weather, talk about the subject for a full 60 seconds.
Resist the urge to openly lament, "I don't know what to say!" This exercise involves your "becoming" an expert on a topic about which you may not know anything at all. Use your imagination! Be creative and funny. Or sad and serious.
Often, the first time this exercise is conducted in a group, most actors (even excellent ones) are reluctant to allow themselves to "let go". Whether they are afraid of looking foolish or they simply cannot accept the fact that they'll likely have to fib, they wind up stumbling over the assignment.
However, with time, this exercise will become easier and easier. And you and your thespian buddies can experiment with a variety of ways of picking subjects. For instance, instead of using the newspaper, you can simply "call out" a subject area to the person who is "on the spot". It's a fun and exciting way to unblock all those social mores that are keeping you from achieving your improvisational potential.
Exercise 2: Make a Scene
In this exercise between two people, one person is given the role as the leader. That individual is either given or makes up an opening sentence (the wackier, the better), which is spoken aloud. The second person must use that sentence (paying attention to the tone and words) to "create" a scene that makes contextual sense.
As with the first improv exercise described above, most initial attempts at "making a scene" are hardly imaginative; in fact, they can seem downright blasé!
Leader: "Hi."
Follower: "Hey there."
Leader: "What did you do today?"
Follower: "Not much. How about you?"
Leader: "Nothing. Just… nothing."

Kind of uninteresting, right? But if a group is willing to stick with this exercise, in time the improvisational actors typically begin to stretch their wings, starting off with such unique openers as:
"I can't believe what I'm seeing over there!"
"You never gave me that orangutan."
"Chocolate may have killed Larry."
NOTE: As the leader/director of this improv game, you don't have to allow the scene to continue for longer than a minute (which is usually plenty of time) unless the players seem to be embroiled in their newfound characters.
Exercise 3: "I Love You"
This exercise is a bit like the one above, but with a twist: The only words the actors can say are "I love you". Not one other word should be spoken.
The aim of this seemingly bizarre exercise is to have the players explore a variety of ways to use their bodies and expressions to add substance to a conversation that only involves three words. In time, the best actors are able to turn this simple project into truly interesting short works of art.
Though it's not necessary, try taping this (or another) improv exercise and then replaying it at your next actor's get-together. Chances are, even those actors who thought they were doing their best will realise that they could be committing more of themselves to the process; eventually, your whole dramatics troupe will become stronger and more capable of tackling almost any piece of literary art as a result of your commitment to practising improv games.
You might also like...