Rehearsal Techniques and Tips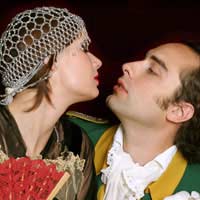 It's true in every field: In order to improve you must practice.As an actor, the most obvious way to get this much-needed practice is to be a part of an amateur dramatics society performance. However, if you're not currently involved with a production, you can still hone your skills using the following techniques.
Read about Acting
It never hurts to pick up a book or magazine about acting or surf on over to an actor's (or director's) website or blog.
Though you may wonder how this will improve your abilities onstage, rest assured that simply educating yourself on the various methods that dramatics, hobbyists and professionals use (such as those heralded by Constantin Stanislavski and Lee Strasberg) will enable you to gain invaluable insights into the realm of the theatre. Consequently, you'll be able to apply those ideas to your next performance.
Join (or Start) an Improv Troupe
If you're already involved with an amateur dramatics society, it's likely that there are others in the troupe who also wish to practice during their "off" hours. So why not get everyone together and form a loosely knit improv group?
One person can be the constant leader, or you can have a revolving "director" (which means everyone will get a turn at controlling the improv action.) By engaging in improvisation with likeminded thespians, you'll be strengthening your ability to be vulnerable and open while performing.
Seek Out Opportunities to "Act"
Though you might not consider your home a production space, remember Shakespeare's famous line from "As You Like It": "All the world's a stage." The same can be said for your living room, den, or bedroom.
For example, if you have small children, why not go beyond simply reading them their favourite stories…? Instead, act out the parts either alone or with them—children naturally enjoy using their imaginations in this way, and they'll be thrilled that mum or dad made reading even more interesting than usual!
Mentor a Fledgling Actor
Should you be fortunate enough to have a little acting experience "under your belt", you can always reach out to fledging actors.
Though you may not consider yourself an "expert" in dramatics, you will still know more than your mentee(s) do(es). Both of you will be able to practice, and you'll inevitably learn from one another. Thus, you can help yourself and someone else simultaneously.
Start a Play Reading Circle
This can be one of the most fun ways to practice, as it involves spending time with your friends and/or family.
Basically, this technique involves bringing together would-be thespians (or just people who are game to try anything!) to read a play out loud in a non-judgmental, laid-back atmosphere (such as in someone's backyard or at their dining room table.)
This method of practicing will enable you to: a) work on your public speaking skills, and b) educate yourself on plays you might never have read previously. One caveat though—a play reading circle can become highly addictive! So make sure you are ready to begin filling in your calendar with reading times!
Register for an Acting Class
Many community theatres, non-profit dramatics groups, universities and schools offer public acting classes. They are typically low-fee, low-commitment events, and you'll have the chance to meet many other persons like yourself.
Usually, these courses are taught by one or more knowledgeable actors or directors, so you'll be gaining an inside look into the world of drama while increasing your skills.
Feel a little nervous about signing up solo? Encourage a friend to join, too, and you'll have the time of your lives!
You might also like...