Making a Living as an Actor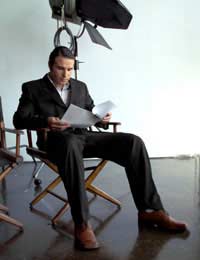 Amateur thespians ask themselves (and others) the same question time and again: "Is it really possible to make a living as an actor?"Obviously there is no straightforward answer to satisfying each inquirer. For some people, it can be done; for others, it cannot. And there seems to be a good amount of luck involved for those fortunate few who really "make it big".
However, just because it might be a "long shot" doesn't mean it cannot be accomplished. Who would have thought that Michael Caine (now "Sir Michael Caine"), a kid from a poor part of town, would become such a renowned actor? By all accounts, he should have remained invisible; instead, his name is synonymous with serious acting skills by many dramatic artists and teachers.
If you're earnest about wanting to become a full-time working actor, there are some definite steps for you to take involving planning. After all, the journey isn't as simple as waking up one morning and switching careers; it requires a diligent amount of forethought.
Below are a few hints to help you turn your career toward the stage or cinema, if that's the direction you truly desire to go.
Know Yourself
Sure, being an actor can sound like a romantic, exciting venture. But it's not all fun and games. The majority of actors spend weeks, months, and even years dealing with rejection. They must constantly pick themselves up and figure out how to brush off all the "no" responses. Sure, they can wallow in self-pity for a time, but to succeed, they have to move beyond disappointment and try, try again.
You know yourself better than anyone. Can you honestly say that you will be able to wake up each morning, go to auditions, and be satisfied with repeatedly hearing, "You're not what we're looking for"? If not, acting may be difficult and disheartening for you.
Consider Obtaining a Flexible Part-Time Job
There's a reason most actors are waiters and waitresses—restaurant life offers them the ability to head out on auditions during the day and then make their rent and grocery money at night.
If you're planning to do the traditional cattle call "go-sees" on a regular basis, you'll need to have a flexible work environment. Perhaps the job you have now could even be accomplished at home or during "non-business" hours. Remember, too, that you'll need to live on something while you're trying to "break in" to the industry. So start that savings account now!
Get Involved with a Reputable Agency
There are tons of agents out there, and if you really want to know if you have a good chance of breaking into the business of acting, you need to seek them out.
Unfortunately, there are more bad agencies than good on the scene. Scammers will tell you what you want to hear and string you along with promises, wasting your valuable time. Be sure to investigate any agencies before approaching them regarding representation. And, as always, if you only receive praise without providing you with any suggestions, your agent is probably not up to par.
Take Care of Yourself
No, actors don't have to be stick-thin or unbelievably tall and good-looking. But they do have to be in good health, generally speaking.
If you smoke, drink too much, and tend to overeat, now is a good time to start getting into shape. The last thing you want to hear is, "We think you're a decent actor, but you're obviously not someone who can take care of her/himself and that concerns us."
Besides, if you're feeling good about your outside, it makes feeling positive (despite the almost-daily rejection of being a professional thespian) easier.
Keep an Open Mind about Relocation
Let's face it—if you're not living in a well-populated area, the chances are slim that you'll be "discovered" while walking down the street or playing with your dog in the park. If you're really going to give professional acting a shot, you might need to move depending on your current locale.
For single persons, that decision to relocate is usually much easier than it is for those individuals who are attached, have children or are still in school and living with their families. In those cases, a move to a larger city (or another country) will affect every member of the household (even pets!). Thus, proceed with caution and make sure that everyone is on board with your desire to pursue your acting dream.
Think of the Alternatives
Sure, you might really want to act in the movies, but what if that doesn't work out? Are you willing to perhaps go back to school to earn a degree that will enable you to teach theatre to kids, teens, or university students? Would you consider working backstage or off-camera instead of on? Could your desires to act be fulfilled by simply engaging in amateur dramatics society productions?
Don't be afraid to ask yourself these questions—only then can you make the best choices for your needs.
Break a leg!
You might also like...
@Squeek - making a living as a professional actor is an extremely competitive game as specified in the article, the majority of actors spend weeks, months, and even years dealing with rejection and also work can be very sporadic, so you have to be very dedicated. On the other hand there are plenty of parts for someone of your age in amateur dramatics and it will give you a taste of whether acting is a career path you'd like to pursue, or whether it's something you'd just like to do for fun. The best thing for you do is to approach some local theatre groups and see if they'd like to take you on. However, if you want to take acting seriously see the National Careers Service link
here
. I hope this helps and whichever way you do it, enjoy.
AmateurDramatic
- 30-Jan-15 @ 10:11 AM
At my age (20) do you think their will be enough roles for me?
Squeek
- 28-Jan-15 @ 8:06 PM