Experimental Or Controversial Theatre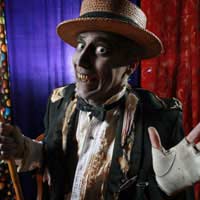 Your amateur dramatics society may be clamouring to try something new, but before you decide to tackle any kind of unusual or experimental theatre, it's important to make sure that you're ready for all facets of the undertaking.
Below are just a few of the considerations you and your board members, actors, directors, marketers and supporters need to keep in mind before trying any kind of rarely performed theatre (at least in western society) such as 'living' theatre, Japanese forms or similar non-mainstream performance types.
Can You Handle A Little Bit Of (Or A Lot Of) Controversy In Your Amateur Dramatics?
If your amateur dramatics group is just starting out, you may not want to splash into the marketplace with highly controversial subjects and theatre methods unless that's going to be your unique selling point in performance.
Most theatre-goers expect to be titillated or challenged on some level, but if you go overboard, you could wind up winning some not-so-nice critiques from audience members who don't 'get' your style of theatre. As long as you're prepared for this kind of fallout, you'll be fine; but if you are in any way uneasy about challenging the status quo with experimental performance pieces, you may not be quite ready for unusual theatre.
Is Your Cadre Of Actors Up To The Task?
Unusual performances demand highly skilled, incredibly focused actors, directors, musicians and/or dancers. Consequently, if your amateur dramatics society is mainly comprised of those 'green' (i.e., inexperienced or novice) in performance, you may not be able to 'pull off' an experimental piece.
On the other hand, if you have many actors with years of theatrical experience, they could present unusual theatre performances that resonate with listeners on a number of levels.
Do You Have An Audience For Unusual Theatre?
Though your amateur dramatics troupe might not be overly concerned with box office receipts, it's critical to decide if you have the market for unusual theatre. After all, performing to a handful of individuals can be demanding and disheartening.
Typically, university students and artisans will be more intrigued by the notion of experimental pieces than so-called 'mainstream' individuals and families. Thus, if you're living in a highly populated, urban (or semi-urban) area, you'll be able to get a bigger 'draw' than if your society is operating in a rural community.
How Far Are You Willing To Go In Theatre?
There are many experimental theatre offerings that are only slightly 'odd'; then, there are some performances that make even the most open-minded audience members wince, turn away or blink in shock.
Your group needs to be on the same page when determining just how far you're willing to go as a team when it comes to unusual performances. For example, is nudity an option? What about onstage simulated extreme violence or adult relations? Everyone who is a member of your amateur dramatics society needs to be on the same page when it comes to understanding your boundaries.
Why Do You Want To Try Unusual Theatre?
Finally, it's always a good idea to ask yourselves why unusual theatre seems compelling to the organizers of your amateur dramatics troupe. Is it the lure of the unknown? Is it something an actor on your team has been dying to do for many years? Is it perhaps a form of theatre that one or more persons at the head of your troupe have accomplished before?
Though there are no 'right' or 'wrong' reasons to jump into experimental theatre, just remember that if you're only doing it because it's there, you might not be quite ready to head into these waters. But if you're doing it because everyone is excited to try something new, by all means go forth and shake up the stage!
You might also like...