Public Speaking Skills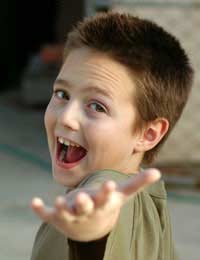 Kids are taught many skills; however, how to speak in public is usually not one of them.Certainly, this isn't shocking news. After all, most men and women would rather visit the dentist than talk in front of a crowd. Consequently, adults are notoriously hesitant to even broach the subject of public speaking with their children.
For youngsters involved with amateur dramatics societies, however, a world of public speaking opportunities and hints can be opened to them. They can learn how to address their peers and adults in a natural manner, and this ability has the potential to take them far in life.
If you have a budding thespian under your guardianship, remind yourself that he or she won't simply learn the art of theatrical play by being involved with a dramatics troupe. He or she will also be given insights into public speaking tips that will help when giving an oral report in school or speaking in front of a group.
Diction
In order to be a good actor or singer, every performer must know the value of proper diction. And this holds true whether that performer is 5 or 105.
It's unlikely that your child will get very far in an amateur dramatics society if he or she cannot enunciate clearly. This is why most directors working with kids emphasise diction to make certain that their young stars can effectively belt out a tune or speak a line.
Volume
Every stage performer comes to realise early on that he or she must speak loudly in order to be heard and understood. If a child's voice is too soft, his or her lines will be lost.
Public speakers must also intrinsically know how to alter the volume of their voices lest their words trail off into space. Having natural control over your vocal chords and diaphragm is a huge asset when addressing others, and once a child begins to do so on a regular basis, it becomes a habit.
Eye Contact
Singers (and sometimes thespians) may be required to make eye contact with the audience. Knowing how to do this without allowing it to become personally stressful is a learned behaviour and one that the most powerful public speakers use.
When a child becomes comfortable making eye contact while addressing a crowd, it's likely that he or she will hold on to this skill for years, enabling him or her to shine in public speaking situations.
Confidence
What young actor, dancer or singer doesn't feel a swelling of pride when he or she is able to take to the stage and entertain an audience?
The confidence that most child thespians get from being involved in an amateur dramatics society will help them enjoy the limelight when they publicly speak, rather than become terrified at the notion of being the centre of attention.
Improvisational Skills
Sometimes, things go wrong during a public speech. The microphone fails, the audience reacts strangely or outside noises threaten to interfere with the talk. At such times, an understanding of improvisational skills on the part of the speaker comes in handy.
Kids who have been given the opportunity to hone their improv talents will generally be more flexible when gaffes occur during their speeches. If something goes awry, they'll be able to calmly move on without allowing it to ruin their experiences.
Expansive Vocabulary
Finally, children who are involved with amateur dramatics groups are introduced to a wealth of words, phrases and ideas. Typically, their vocabularies and understanding of the world around them increases in a positive way.
Having a grasp on a variety of words can turn a mediocre speech into one that shines with insight and brilliance. Hence, if a child can pop a few "higher" thoughts into his or her talk, so much the better. Chances are that his or her speech will be remembered and praised.
Obviously, it's not imperative that every child be a part of an amateur dramatics society. Some will simply never gravitate toward the stage, and that's fine.
But if you have a budding thespian or director, don't shy away from allowing your son or daughter to stretch his or her wings. The lessons learned from the stage could be some of the most valuable he or she will ever receive.
You might also like...
I run a junior drama class called TEEN8 this is the young peoples group associated with Theatre Eight in Geraldton Western Australia. I certainly agree with all your comments about children and young adults learning life long skills that will help them to further a career choice with confidence and many communication skills that will set them apart from others who have not had the opportunity to experience drama at a young age. I would like to know if there is a time limit for young children to appear in an adult play. What is the latest time for a young person to be on stage in an evening performance. Thank you for your attention Doreen Howells Theatre manager Theatre Eight 0457674732
Dodie
- 27-Nov-13 @ 2:27 PM