Drama and Drama Training to Help Kids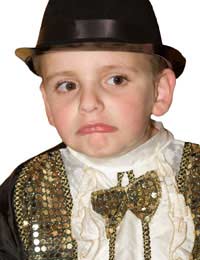 Children and theatre tend to be a natural partnership as youngsters can readily throw off the shackles of convention and be creative without concern for how they look or what they "should" be doing. In fact, amateur dramatics can have a plethora of benefits to kids of all ages and abilities. Check out some of the biggest advantages below.
Theatre is an Excellent Equaliser
Sure, a child may be "just a tot", but as a performer on the stage, he or she will be treated the same as the adults. Thus, age becomes much less of a factor than it is in "real life." In an amateur dramatics group, a youngster has the same footing as someone twice or three times his or her age, which can be incredibly powerful from a psychological perspective.
Children Can be Who They Really Are
We all know that peer pressure can have an extremely negative impact on kids, especially those entering the tumultuous preteen and teen years. Fortunately, the theatre is a very comfortable, non-judgemental place in which they can explore their personalities without fear of retribution or snide remarks from classmates. The resultant self-esteem boost usually carries over into school, where they are less likely to be motivated by the "in" crowd.
Kids Can Find Their Strengths
Not everyone is a straight "A" student; that's just the natural way of the world. However, it can be tough for a youngster who struggles in the classroom, as he or she often feels inadequate or "stupid". Therefore, the experience of being lauded as an excellent actor, singer or dancer can be emotionally amazing for the child whose grades are less-than-superior. Ironically, those same grades often rise as the budding thespian or musician gains confidence.
Making New Friends
Often, children only know other kids with whom they attend school or play in their neighbourhood. By being exposed to other youngsters during an amateur dramatics society performance, they will have the opportunity to meet and work with peers they wouldn't have otherwise known. Many times, this is an eye-opening event that can change a young individual's perspective significantly.
Self-Discipline and Perseverance
Self-discipline doesn't come naturally to many kids (or adults, for that matter). Thus, the behaviour must be learned and honed through practise. What better place to work on this skill than onstage? Certainly, when a child becomes involved with an amateur dramatics show, he or she will be expected to have more than a modicum of self-discipline; otherwise, his or her performance will be lacking.
Team Building
Unless a child is involved in a one-person show, he or she will be performing as part of a larger group. Just like a sports team, a group of thespians, musicians or dancers must be able to work with each other. They must also be dependable as well as professional. Kids quickly learn that their roles in the theatre carry high expectations.
Fun!
Finally, it's just plain thrilling to be on stage, and most kids fall in love with amateur dramatics that first time they hear the audience's laughter and applause. It makes them realise that they can do anything they want in life… and have fun, too! What better experience could any young person want?
You might also like...