Making each Acting Performance Unique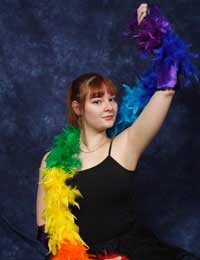 Want to know a secret? Actors, singers and dancers sometimes become incredibly bored, especially if they have performed the same script or routine again and again and again and… well, you get the picture.
To combat this feeling of ennui, exceptional performers have ways of making each performance unique. Of course, this doesn't involve changing their lines or radically altering what they are supposed to do onstage. Instead, it requires them to put in place small (but effective) variations. Though an audience who watches more than one performance of the same play or opera may never know the difference, those tiny modifications will keep the action from being stale and uninspired.
Here, straight from the trenches, are a few of the most effective means of maintaining a show's freshness.
Change the Backstage Rituals
Many times, performers go through the exact same backstage preparation routines; this can lead to stagnancy after a time. Hence, it can be refreshing to mix up rituals. Even something as simple as putting on lipstick before applying eye cosmetics could make a difference in the way the evening's show progresses.
Think about your routines—are there any you could switch around without losing your rhythm? Chances are that you'll be able to come up with quite a few.
Note: Please be aware that for some compulsive personality types, changing long-standing routines will not feel better and could potentially lead to a negative experience.
Try Saying the Lines in a New Way
If you've begun to feel as though you're able to say your lines in your sleep, chances are that you need to rev them up with an infusion of emotions.
Try changing the word emphasis here and there, as doing so will encourage the character opposite you to change his or her emphasis as well. For example, if your line is: "I'm going to train", you can put the emphasis on "I'm", "going", or "train". Depending upon your tone and the circumstance of the scene, the underlying meaning of the sentence may be quite different, adding a new flavour to your performance.
Wear Something Just a Little Different
As long as it won't affect your role, other thespians or the show's plot, you can always add a piece to your costume, such as a scarf or pin. Get permission from the director or costumer first, though!
Try to incorporate the accessory into your part, such as flinging the scarf over your shoulder or fingering a brooch nervously during a particularly intense scene. Believe it or not, just knowing that you have something a little different on your body will immediately alter the way you feel about the play.
Invite Someone Special to the Show
Isn't it always more exciting to perform when you know someone (or many people) in the audience?
If at all possible, ask special friends to come to your performances and recitals on staggered nights. That way, each time you get up on stage, you'll "strut your stuff" for at least one person who is close to you. As a result, you're bound to be more alert and "on".
No matter what technique you use for making each performance shine as though it were opening night, remember that there's no excuse for a boring show. It's up to you and your fellow actors, singers and dancers to make each ticket holder feel like he or she saw the best rendition ever.
You might also like...