Rehearsal of Your Performance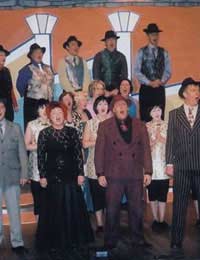 Practising, or "rehearsing" as it's often called among those involved in amateur dramatics, is an integral part of ensuring that actual performances are as strong and compelling as possible.
Whether you're a director or actor, there are some hard and fast rules when it comes to practising. Five are explained below.
Rehearse Regularly
If you know the date your play will "open", it's important to sit down with a calendar and figure out how much rehearsal time will be necessary for your troupe to be ready when the curtain rises.
Though preparation timeframes vary from a few weeks to several months, it's essential to have a schedule and stick to it. For instance, you may want to request that principle characters rehearse three nights a week from the get-go, while secondary characters may only need to practise once a week for the first few weeks of rehearsals.
If you can establish your rehearsal dates before auditions, it's a good idea to share them with auditioning thespians and musicians. That way, everyone will understand the time commitment involved with being in the production.
Bring in "Audience" Members Periodically
Directors would be wise to bring in other people to watch rehearsals and give feedback on what they see. Additionally, actors may want to see if they can bring friends and family members to practises to help evaluate how the production is coming together.
Truly, second opinions can be especially helpful if the onlooker can give objective (rather than subjective) opinions on what he or she sees. A fresh pair of ears and eyes can also alert the performers to trouble spots. For instance, a director or thespian may not realise that a scene is potentially confusing to audience members; after all, the performers have heard it time and again and are accustomed to what's happening.
Assign Homework… and Make Sure It's Being Accomplished
It's the role of the director to assign homework to the players, whether it be to conduct research (for a period piece) or to simply memorise a section of the script for the next rehearsal. Correspondingly, it's up to the performers to complete their assignments on time.
Because a play is a team effort, it's critical that all the team members stay on task. If any begin to neglect their responsibilities, the entire production will suffer. Therefore, homework must be checked on a regular basis (though in most cases it will be obvious that someone is not putting forth any effort outside of scheduled rehearsals).
Be Open
The director, backstage volunteers and all actors should be open to new ideas during the rehearsal process. It's very difficult to work with someone whose motto is "My way, and my way alone".
If you find yourself fighting against change, honestly evaluate why you feel the way you do. Could it be that you simply are letting ego get in the way of progress? If so, remind yourself that everything you do, no matter if it's behind-the-scenes or on the stage, should be focused on making the production as tight as it can be.
(A quick note for directors: Working with thespians who are resistant to taking direction can be draining for everyone involved in the amateur dramatics society. Sometimes, it's better to let a great actor go rather than lose many other mediocre performers because of one actor's stubbornness).
Start Off with Warm-Up Activities
Just as you wouldn't begin a sport without warming up, you shouldn't start a practise without vocal and physical exercises. These can be anything from improvised scenes to movement activities.
Not only will this help prepare everyone to rehearse, it will also serve as a bonding agent for the entire team.
You might also like...