Low Audience Numbers for Your Drama Performance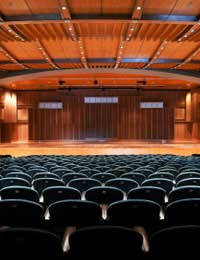 Even if your amateur dramatics society isn't offering performances for financial gain, it can be tough to act in front of empty chairs again and again. In fact, low audience numbers can very quickly take a toll on the morale of your talent base.
Consequently, it's up to your theatre's leadership to come up with ways to reverse waning ticket sales and make sure the seats are at least 50-75% filled for each show. (No cheating here - simply removing the chairs you have set up doesn't count!)
Sound impossible or at least too challenging for a non-profit organisation to handle? It's not, but it will require some creative thinking to make an improvement and begin selling tickets!
Adjust Your Marketing
If your amateur dramatics society is relying solely on word-of-mouth advertising to pull in audience members, it may be time to take your marketing efforts to the next level. This doesn't mean spending a fortune, however!
Try putting together a website (it's inexpensive, and someone might be willing to do this for your troupe for free) that lists your upcoming shows, then begin to cultivate a database of individuals who will allow you to email them with updates. That way, you can alert them to when and where your amateur dramatics troupe will be performing.
You can also make simple posters and hang them around your community (where it's legal to do so.) This may encourage some persons to attend who might otherwise not have known about your offerings.
Obtain Corporate Sponsors
Before you quake at the notion of asking a company to underwrite your next drama or comedy, understand that a corporate sponsorship doesn't have to equate to a huge figure. A mere £25 can go a long way if you're frugal with your spending.
When you get businesses on board, it can help legitimise your dramatics society in the mind of potential theatre-goers. Additionally, the companies who are backing you financially will be more apt to have at least some of their employees and/or clients come to the performances they are underwriting.
Work on Your Internal Talent
Ask yourselves a serious question: Are your shows really good enough? One of the best indicators that you might not be working at prime level is if initial ticket sales for performances were high but gradually dropped off.
If you see indicators that the problem might be internal (as in poorly chosen actors, singers, dancers, directors, et cetera), it could be time to bring in some new persons to help revitalize your troupe.
Tackle a Variety of Theatre Genres
Maybe your group's ticket sales are lagging because you're choosing shows that are either too avant garde or boringly mainstream. This is another easy fix - for your next performance, choose a production that's different than those you've tried before.
For instance, if your society has become known for its comedies, take on a drama. Similarly, if you've always worked with pieces written by contemporary playwrights, choose a play by Shakespeare, Ibsen or Wilde for a bit of fun, challenging variety.
Chances are good that when you change the way that you approach your performances and marketing, you'll begin to see fewer empty seats!
You might also like...